AY Honors/Knot/Bowline
From Pathfinder Wiki
Bowline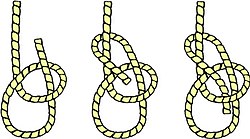 Use: This knot doesn't jam or slip when tied properly. It can be tied around a person's waist and used to lift him, because the loop will not tighten under load. In sailing, the bowline is used to tie a halyard to a sail head.
How to tie:

Make the overhand loop with the end held toward you, then pass end through loop.
Now pass end up behind the standing part, then down through the loop again.
Draw up tight.