The NAD Team has come up with a list of honors that can possibly be earned at home during the COVID-19 shut-down.
Check it out!
El liderazgo de la División Norteamericana he creado una lista de especialidades que posiblemente se pueden desarrollar en casa durante la cuarentena del COVID-19.
¡Búsquelo aquí!
Difference between revisions of "Adventist Youth Honors Answer Book/Arts and Crafts/Candle Making/es"
From Pathfinder Wiki
---
Revision as of 21:35, 11 July 2018
Arte de Hacer Velas
Asociación General





Destreza: 1
Año de introducción: 1972
1. Hacer al menos 5 de los siguientes:
a. Vela de arena tipo forma libre
b. Vela en capa de colores
Ballestrinque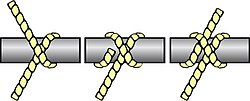 Uso:
Este nudo es la vuelta o el empalme de «utilidad general» para cuando se necesita un método rápido y sencillo de sujetar una cuerda alrededor de un poste, mástil o estaca (como atar mechas a palos en la especialidad de
Arte de Hacer Velas
) u otra cuerda (como en la especialidad de
Macramé
).
Cómo amarrar:

Haga un giro con la soga alrededor del objeto y sobre sí mismo.
Haga una segunda vuelta con la soga alrededor del objeto.
Hale el extremo para arriba debajo de la segunda vuelta para que se esté entre la cuerda y el objeto. Apriete halando ambos extremos.
c. Vela hecha de un molde
d. Vela de hielo
e. Vela sumergida
f. Vela en gotera de cera
g. Vela perfumada
h. Vela de cera de abejas
i. Velas flotantes
j. Vela en un contenedor/jarra
k. Vela decorada
2. Conocer 2 clases de cera para hacer velas y sus usos.
3. Conocer los tamaños de las mechas y cuál de ellos se quemarán adecuadamente en cada vela.
4. ¿Cuándo una mecha de metal debería ser utilizada?
5. Conocer las técnicas de seguridad al hacer velas.
Referencias