The NAD Team has come up with a list of honors that can possibly be earned at home during the COVID-19 shut-down.
Check it out!
El liderazgo de la División Norteamericana he creado una lista de especialidades que posiblemente se pueden desarrollar en casa durante la cuarentena del COVID-19.
¡Búsquelo aquí!
Libro de respuestas de especialidades JA/Nudo/Ballestrinque
From Pathfinder Wiki
---
Ballestrinque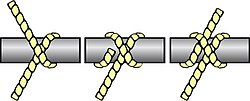 Uso:
Este nudo es la vuelta o el empalme de «utilidad general» para cuando se necesita un método rápido y sencillo de sujetar una cuerda alrededor de un poste, mástil o estaca (como atar mechas a palos en la especialidad de
Arte de Hacer Velas
) u otra cuerda (como en la especialidad de
Macramé
).
Cómo amarrar:

Haga un giro con la soga alrededor del objeto y sobre sí mismo.
Haga una segunda vuelta con la soga alrededor del objeto.
Hale el extremo para arriba debajo de la segunda vuelta para que se esté entre la cuerda y el objeto. Apriete halando ambos extremos.