The NAD Team has come up with a list of honors that can possibly be earned at home during the COVID-19 shut-down.
Check it out!
El liderazgo de la División Norteamericana he creado una lista de especialidades que posiblemente se pueden desarrollar en casa durante la cuarentena del COVID-19.
¡Búsquelo aquí!
Adventist Youth Honors Answer Book/Knot/Clove hitch
From Pathfinder Wiki
Clove hitch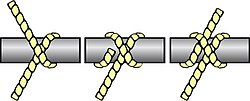 Use:
This knot is the "general utility" hitch for when you need a quick, simple method of fastening a rope around a post, spar or stake (like tying wicks to sticks in
Candlemaking
) or another rope (as in
Macrame
)
How to tie:

Make a turn with the rope around the object and over itself.
Take a second turn with the rope around the object.
Pull the end up under the second turn so it is between the rope and the object. Tighten by pulling on both ends.