The NAD Team has come up with a list of honors that can possibly be earned at home during the COVID-19 shut-down.
Check it out!
El liderazgo de la División Norteamericana he creado una lista de especialidades que posiblemente se pueden desarrollar en casa durante la cuarentena del COVID-19.
¡Búsquelo aquí!
Libro de respuestas de especialidades JA/Insignias desactualizadas/ADRA/Especialidad desactualizada de Ministerio ante el desastre
From Pathfinder Wiki
---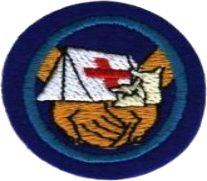 Especialidad desactualizada de Ministerio ante el desastre ADRA
Año cambiado
2009
Razón cambiado
Específicamente para los lugares donde ADRA sirve (no disponible en los Estados Unidos), este parche tenía originalmente la imagen de manos que acunan algo (que es evidente en algunos otros logotipos de diferentes ministerios adventistas), en este caso una tienda de hospital. Más tarde, un nivel avanzado fue añadido. Estos parches de ADRA aparecieron originalmente en 2002, pero fueron rediseñados y algunos requisitos modificados en 2009.
Diseño actual
Haga clic aquí para ver los requisitos y el parche actual --> Auxilio de las catástrofes