The NAD Team has come up with a list of honors that can possibly be earned at home during the COVID-19 shut-down.
Check it out!
El liderazgo de la División Norteamericana he creado una lista de especialidades que posiblemente se pueden desarrollar en casa durante la cuarentena del COVID-19.
¡Búsquelo aquí!
Adventist Youth Honors Answer Book/Retired Insignia/Outdated Biblical Archaeology Honor/es
From Pathfinder Wiki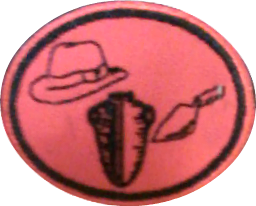 Especialidad desactualizada de Arqueología biblica
Año cambiado
2015
Razón cambiado
Este parche fue la versión original para esta especialidad propuesta enseñanada en el campamento Forever Faithful [Siempre Fiel] en 2014 en Oshkosh, Wisconsin. La presentación fue realizada en inglés y español. Tenía un fondo de color rojo para indicar su categoría Vocacional e incluía un sombrero de fieltro (estereotipicamente asociado con los arqueólogos debido a la popularidad de las películas de Indiana Jones), una pala de mano y un artefacto. La División Sudamericana había creada una especialidad similar en 2012 y sus requisitos se combinaron e integraron para formar los requisitos actuales. También se adoptó la versión del diseño del parche de la División Sudamericana, que muestra lo que parece ser una tumba momia egipcia con un fondo de color azul oscuro, que pertenece a la categoría de Actividades Misioneras.
Diseño actual
Haga clic aquí para ver los requisitos y el parche actual --> Arqueología bíblica