Especialidades JA/Targjetas postales
From Pathfinder Wiki
Tarjetas postales
Autoridad de aprobación
General Conference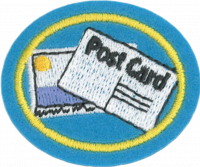 Vistazo general
Here should be an overview for the Honor.
La parte desafiante
El requisito más desafiante de esta especialidad es probablemente el siguiente:

9. Hacer una colección de al menos 50 tarjetas postales (sin dos postales iguales). Su colección DEBE incluir lo siguiente:
a. Comience su arreglo con una tarjeta postal de tema religioso.
b. Tarjetas postales de al menos 10 estados/provincias/países.
c. Tarjetas postales de al menos dos países que no son el suyo.